New products
IPG20 Intelligent Pump Guard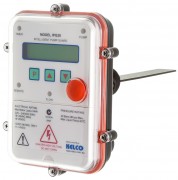 Features
High and low floatless level control for tanks and sumps
2 HP 1.5kW 20 AMP 500V S.P.D.T switch
No metal parts in contact with liquids
Heavy duty all metal housing
Weatherproof to IP67
Super reliable magnetic action
Applications
Level control in confi ned or tight locations
Suitable for pump in or pump out applications
Water tank level control
Effluent and liquid waste level control
Suits slurry and high solid applications
Suitable for use in sea water, acids and many chemicals
Works in sumps. pits, bores, tanks, wells or bunds
OPERATING PRINCIPLE
The D50 two position level switch operates on Archimedes Principle. When non floating solid
displacers suspended from the switch, are immersed in liquid their weight is reduced by an amount
equal to the weight of the liquid they displace. The weight change is detected and used to actuate
a magnetically isolated switch. Surface agitation, froth, floating or submerged solids do not affect the action of the
D50 switch. The displacement principle depends on the specific gravity of the liquid in which the displacers are
suspended. The D50 is set to operate in water with a specific gravity of 0.95 or greater.
Further Information
FEATURES
Stainless steel or Polypropylene
Built in manual override
15 Amp 500 Volt SPDT Switch
Unique Seal-less coupling
Weatherproof to IP67
 Simple to install
 Fully serviceable
Description
The L Series side entry level switch provides a reliable accurate and low cost solution to tank level control. The switch is available in all thermoplastic construction in a combination of 316 Stainless Steel and Polypropylene. The level switch can be supplied with a 500 Volt rated single pole double throw microswitch for general control circuit use or with a SPDT reed switch for low voltage low current applications. The L series level switch is built tough to give a long reliable service life in the most arduous applications.
More Information