Welcome to Kelco Products Ltd
Kelco Products Limited distributes the Kelco range of products in New Zealand and the South Pacific region.         
The Kelco range includes simple inline switches, paddle switches, pressure switches and flow switches through to highly sophisticated programmable pump controllers with features such as anti-cycling, delays on start and after stopping, burst pipe detection and loss-of-prime protection.
These corrosion resistant products have a wide range of applications; from manufacturing and commercial through to agriculture and irrigation - in fact anywhere fluids are being moved.
New products
IPG20 Intelligent Pump Guard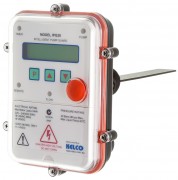 Latest News
Introducing the IPG20 Intelligent Pump Guard
The ultimate protection device for helical rotor & centrifugal pumps Originally designed for the protection and control of helical rotor pumps in dairy effluent systems, the IPG20 also functions as a precision over and under pressure and flow protection device for centrifugal pumps of all sizes. The IPG20 is able to learn the pressure characteristics of the system it is installed in and automatically compensate for pressure change due to changes in water level and in changing ground elevation in both fixed and travelling irrigation systems. It is able to differentiate between natural pressure drift and genuine fault conditions and to shut a pump down as soon as a fault is detected. The IPG20 includes many advanced features and functions allowing it to be configured to suit most irrigation systems large and small. Further information can be found at the following link:
IPG20
Introducing the F60 Pump Controller
We are proud to announce the long awaited relaese of the Kelco F60 pump controller. This new product has been in development for three years and is our most advanced controller to date.  More infromtion including YouTube video presentations can be found at the following link:
Kelco F60
 Paddle Trimming Calculator
We have added a new easy to use paddle trimming calculator to our website. Previous versions of this calculator were Microsoft Excel based. The new calculator can be found here:
Calculator
Adobe Reader download
For downloading and reading PDF documents, Adobe reader is required Download Adobe Reader Here